First thing you need to do in this level is to jump into the hole, but be careful, you need to grab the ledge first, use Ctrl to drop down to the lower ledge and in the end ... let it go. Be fast and press Q to grapple to the ring nearby and you should then be able to lower yourself to the bottom safely.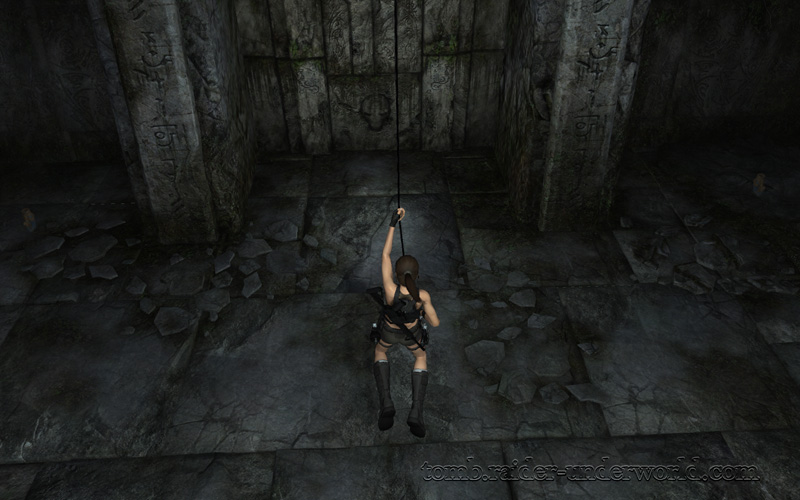 You'll soon get to a large door and the gauntlet is activated. Use it to open the door: stand next to it, press E then move it.
Get to the center of the room and another cinematic should start.
There are a few artifacts waiting for you to pick up. First, grapple down using the ring and you should find the first one. Use the grapple to get back up when you're done.
For the second one you need to get to the center again and drop down using the ledges. Move the block a bit to the right and you should enough space to squeeze in and pick the artifact #2.
Now, in order to go on with this level, you need to position the bridge to face the exit. For this you'll need to push it on the exterior first.
Use the grapple from a position like this one:
Use the directions keys to gain some speed and jump to the platform. You can then push it. Note that you need to push/pull from one side and then continue on the other side. You can use one of the alcoves for that, if you position it right you should have just enough space to squeeze from one side to another.
If you move it the "wrong" direction you'll be able to pick up the artifact there.
When you pushed the bridge as much as you can from the exterior get to the interior ring (using the grapple) and move it again using the block with the ledges. When the bridge is in the right position a cinematic will start and you can continue through there.
Yeah, that's the end of the level. Really weird, but hey, at least it looks awesome.