Ok, let me start by saying that this is a challenging level, so take your time and yeah, you'll need to master the chimney climb.
First thing you need to do is jump into the water - kill the sharks if you want, but it's easier to just swim past them, either way, get to the rock ahead.
Get out of the water and climb the rock as shown below.
Yeah, Lara is a little spider in desguise. Anyway, when you reach a bit up you can go right to get an artifact .. or just go to the left if you want to skip it.
I chose the right path to get the first artifact for this level.
There it is in the cave (you need to crush a jar to reveal it). Pick up the health pack nearby too.
Get back to the fork (either jump into the water or go the same way you reached the cave). Go left this time.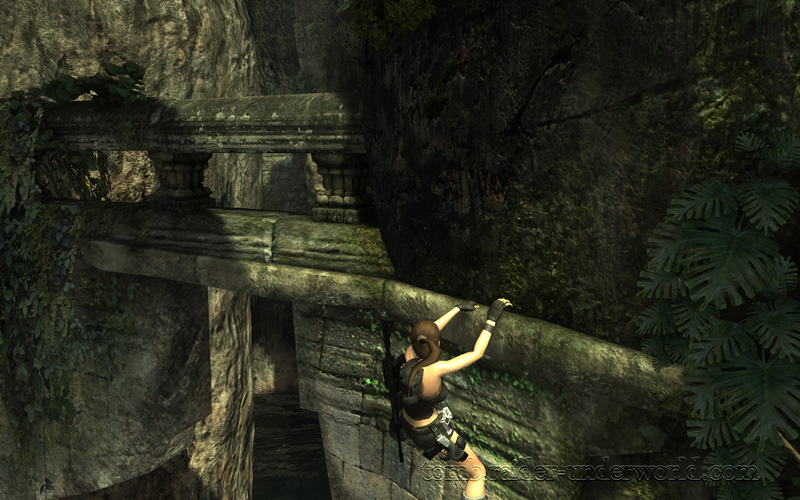 Jump and grab the ledge on the other side, move to the right and climb up there, Lara will stand and be ready to jump to the platform on the other side.
There's a health pack nearby so don't miss that.
Slide a bit on the slope ahead then jump and do a swinging jump using the pole to the other side.
You'll get to a nice island view. Take your time and .. yeah, take some photos too.
You'll find a ledge nearby, jump and grab it and then do another jump to reach the upper one.
You'll need to do a chimney jump next to get upper: keep the Up (or generally front side where Lara's looking) and press Jump .. pretty much a lot. Yeah, I know it sounds like Mortal Kombat, but it's the only way I manage to pull it off all the time.
You will need to use your grapple a bit, nothing hard though.
Crawl under the rocks ahead ... or press Ctrl while running.
Continue ahead and you'll reach a temple door .. closed.
« Nifleheim | Remnants (part 2) »